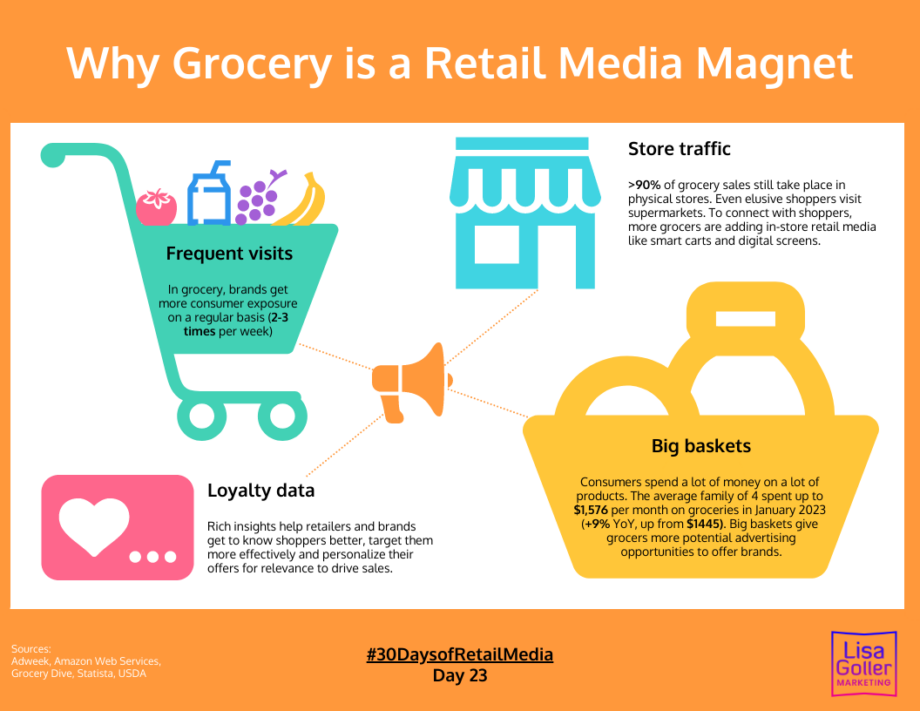 #30DaysofRetailMedia | Day 23: Why Grocery is a Retail Media Magnet

Why are brands gobbling up advertising in grocery?
Factors like:
🍎 Big baskets
🍊 Frequent visits
🍋 Robust loyalty data
… make grocers' retail media networks irresistible to brands that want to reach and influence the masses as they shop.
That's why retailers like:
🍓 Ahold Delhaize
🍊 Albertsons
🍌 Amazon
🥑 Carrefour
🍇 Kroger
🍉 Loblaws
🍑 Sainsbury's
🥝 Target
🍒 Tesco
🍏 Walmart
… have emerged as retail media leaders.
In addition, CPG brands have the highest share of total ad expenditures among U.S. industries, accounting for 23% of their budgets. [Statista]
🥊 Since consumers regularly buy food and beverages, the CPG industry is highly competitive with brands fighting for shelf space and attention.
🌟 Buying ads helps CPG brands stand out in the crowded grocery space (and compete as private label sales soar).
What would you add?
View Original Article