As of Q3 2021, DoorDash is the dominant food delivery platform in 48 states. This comes on the heels of Connecitcut flipping DoorDash red from Q2 to Q3 as the food delivery giant took over the market share lead. Uber Eats is the top choice in New York and Florida, the second and fourth largest food delivery markets, respectively, and also holds onto Washington, DC. While DoorDash leads at a national level among the big 3 players, it also holds a majority share in 43 states. As of Q3 2021, Massachusetts, Illinois, New Jersey, Nevada, and Connecticut are the only states in which DoorDash holds a market share lead but not a majority share.

Uber Eats only captures the majority of food delivery sales in Florida, but does hold about a 10% percentage point market share lead in New York. While Uber Eats has actually captured share in 2021, up about 3.5 percentage points since the beginning of the year, it's been at the expense of Grubhub rather than DoorDash.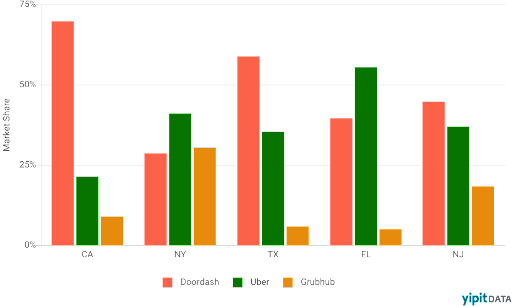 While customers have made DoorDash their first choice in most markets, some customers are adopting a platform agnostic perspective on third-party food delivery. The share of customers ordering from both DoorDash and Uber Eats is up 11% year over year. Meanwhile, there are significantly fewer customers using Grubhub plus another platform.
Subscription services like DashPass and Eats Pass create a stickier experience for customers, but promotions and partnerships, like that of DoorDash's and Chase, can entice customers to try out a new platform and subsequently comparison shop for the platform with lower delivery fees or specific merchants. As DoorDash continues to expand into new verticals and business models, it will be interesting to track what tactics the platform explores to attract and hold on to new customers.
———————————————————————————————————————————————
For more on third-party food delivery platform dynamics, visit yipitdata.com to connect with our team of analysts. YipitData is the premier provider of alternative data to investment funds and corporations.
View Original Article